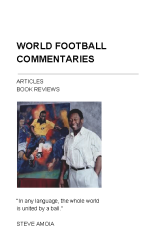 Image credit:
Barnes & Noble Press.
Dear Readers:

I have been the publisher and editor of World Football Commentaries since November 2006. This project was my small contribution to a sport that I have followed and studied since childhood. It has humbled and astounded me that visitors from over 189 countries have visited this site since its inception.
My goal was to provide you with unbiased journalism and unique content with a focus on topics that were rarely covered in English-speaking media. I hope that those objectives were achieved to your satisfaction.

I was also pleased, and quite thankful, for the wonderful contributions over the years from many talented contributors who are too numerous to name, let alone properly thank, personally. To those writers, and others, who have contributed here, I have greatly appreciated your efforts. Please accept my profound gratitude.
I have decided not to update this site any further nor make its past contents accessible. I have produced a modest book from my own portfolio of selected articles and book reviews. This project did not contain any writings from my valued contributors nor any translated excerpts. It will contain many of the reviews that you see listed on the sidebar. Especially the foreign language titles.
How to Order
This book is available in print or with an e-book version. Here are the links or you may click the image at the top of this page for the print version:
Thank you for your kind support since 2006. It has been my pleasure to serve you.
Editorial Review
Please remember that world football unites us special ways.
Respectfully,
Steve Amoia
Washington, D.C.
April 2020

Steve Amoia is a freelance writer and translator based in Washington, D.C. He was the publisher of World Football Commentaries from 2006 to 2020 and published The Soccer Translator from 2008 to 2015. He has also contributed at AC Cugini Scuola Calcio, Beyond The Pitch, Football Media, Italian Soccer Serie A.com, Keeper Skool, and Soccerlens (Sportslens), respectively.
---
www.worldfootballcommentaries.com: Unbiased journalism and unique content since November 2006.
---

Tweet