Synopsis
:
The new manager of the Azzurri, Roberto Mancini, presents his UEFA Pro License thesis, "The Trequartista."
Contents:
1. His personal experience.
2. The role of a trequartista in a team's playing formation.
3. Historical notes on the trequartista role.
4. Observation of the trequartista role.
Please note:
This article originally was published at The Soccer Translator in 2013 and has been updated. I reviewed my translation from many years ago and still marvel that Mr. Mancini's thesis has not received more scrutiny by major football media outlets. You may read his entire thesis in English, and view the schematic diagrams, on Mr. Mancini's personal website. My translation of these excerpts appeared before his thesis was translated (either by him or another translator.)
---
A Turkish football journalist,
Ugur Karakullukcu
(
@ukarakullukcu
),
kindly sent me a link to Roberto Mancini's coaching thesis that was submitted to the Italian Federation in Coverciano, Italy, in 2001. The normal practice when Italian managers take their badges is to write a thesis and then present it to their colleagues and teachers. Mr. Mancini's thesis was presented at the "Corso Master 2000/2001" (UEFA Pro License Master's Course). Ironically, Mister Mancini now will call Coverciano his home base for at least the next two years.
— Nazionale Italiana (@Vivo_Azzurro) May 15, 2018
As you might imagine, this thesis was a brilliant, detailed, expert-level analysis with many diagrams, statistics, charts and graphics.
Mr. Mancini
described that magical and mystical Italian position, the
"Trequartista."
I will translate excerpts from a few sections to give us a better idea of the author's insightful perspectives.
— Roberto Mancini (@robymancio) May 15, 2018
"It's a dream that is realized. I am happy for my parents. If I am here, I owe it also to all of my coaches. Each one has been important in my career!"
He will face Saudi Arabia (2-1), France (1-3), and The Netherlands, respectively, in his first three friendlies with the Azzurri.
Let's see what the new Italian national team manager, or "il C.T.", Mister Mancini, had to say in his compelling thesis, "il Trequartista."
---
1.
Personal Experience
Roberto Mancini discussing his childhood. "I supported Juventus."
My career began in the youth ranks of a youth team for children just starting out in football. It came naturally to me to place myself between the midfielders and attackers. At the age of 13, I went to play for Bologna and experienced the whole rigmarole up through the reserve team in the role of a trequartista. It was a stupendous role because it allowed me to always be in the thick of things, start plays, set up others or try to score directly myself.
The most entertaining thing was my desire to always be very important for the team. In a few words, I wanted to be a player who was crucial.

At the age of 16, I made my Serie A debut.

Unfortunately, Bologna wasn't a great side and therefore, the manager, Mr. (Tarcisio) Burgnich, decided to make me play, to our great collective displeasure, in the role of main striker. This was due to our position in the table, the team's tactical balance equation, along with the fact that even I could score goals.
I was able to score nine goals, but Bologna was relegated and Sampdoria (a Serie A side) acquired me.

My fixed desire for the next year was to finally be able to play in my preferred role as a trequartista.

The season began. My dream was crushed by the new manager, who at the instant when I sat down to discuss my aspirations with him, got up and left. And there, once again, my dream ended before it had really even started.
Today, since I'm no longer a footballer, I'm very fond of my career as an attacker. But I think it would have been better if I could have played in my natural role as a trequartista. I say this because unfortunately, a player with these characteristics has to be lucky to find a certain type of team. But above all, a manager who also knows how to modify his style of play.
Translator's Note:
Tarcisio Burgnich in action against
Rene Houseman of Argentina at the 1974 World Cup.
Photo credit:

Deutsches Bundesarchiv.
Tarcisio Burgnich
was an Internazionale legend and former Italian international. He won the European Nations Cup with Italy in 1968 and played in the 1970 World Cup final versus Brazil.
---
2. Who is the Trequartista in the playing formation of a team?
Michel Platini with the Ballon d'Or in 1985.
Photo credit: Hautetfort.
From the perspective of the footballing culture:
The trequartista is a gifted player equipped with strong technical skills and precise characteristics:
An elevated capacity of losing his marker.
Fundamentally great technical qualities and good technically-applied qualities.
Unpredictability.
A capacity to send attackers on goal in various ways with ease.
A predisposition for dribbling and individual plays.
A scarce presence in the defensive phase.
From the perspective of a 'position on the pitch':
The trequartista is a player who positions himself in the central zone between the midfielders' line and the attackers' line.
---
3. Historical Notes
Diego Maradona's famous warm-up routine before Napoli v. Bayern Munich in 1989.
Zico, Michel Platini and Diego Maradona are the best expressions that Italian football has produced in the last 20 to 25 years in this role.
In the 1990s, the role entered into a crisis. Managers frequently sacrificed the historic 'number 10' figure by reasoning a necessity to safeguard the balance of their teams. Such choices are difficult to understand (which have brought a speculative and muscular football for many years) having been dictated for theoretical reasons instead of due to a lack of 'talented players.' In more recent years, there has instead been a return of the torch: Many teams today are "constructed" really around a trequartista (for example, Brescia and Juventus).
The role has undergone a decided evolutionary process: Zidane, Rivaldo, Rui Costa and others (namely, the best in this 'new role') are very different players in respect to their colleagues from the past. They are associated with unarguable technical qualities and physical gifts that aren't indifferent which allow them to participate more actively in the recovery phase of ball possession.
The different physical make-up of the 'new trequartista' permits them to compensate for the reduction in spaces at their disposal, and of the times conceded to their opponents for 'making the play.' Even the more creative players have to adapt themselves to a more-athletic brand of football where 'technique' is no longer sufficient to break out at certain levels if they are not supported by good physical and character traits.
For all of these reasons, it's always more difficult for the trequartista 'to make the difference' as used to occur in the football of past years. That, at least, explains the decision to renounce the trequartista above all by mid-to-lower table teams. They remain, however, with their personal characteristics, as the top players in every formation. For all of these reasons, today it is easier for teams to support (and to not support any further) the modern 'number 10.'
---
4.
Observation of the Trequartista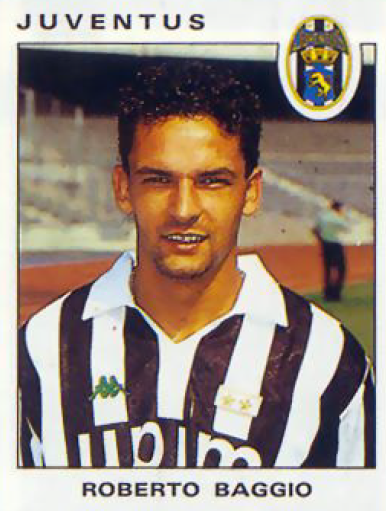 Photo credit: Old School Panini.
A statistical definition of the role.

Wanting to define, in the most objective manner, if a player belongs or not to the role of a trequartista, it's possible to utilize a statistical investigation that links each player to one of the eight roles thought about to define their placement. And consequently, to be able to give a pertinent valuation (goalkeeper, fullback, centerback, central midfielder, wingback/outside midfielder, central offensive midfielder or trequartista, support striker, target striker).
This research uses the density of play which is based upon the position on the pitch that the player has when he comes into possession of the ball during a game. Along with the time of possession for each ball played. For each game, it's possible to attribute each protagonist his true role. At the end of the season, you can calculate an average density which utilizes all of the data obtained during the year.
In such a way, you are able to attribute a role to any player. Conforming to such a model, there are

only 11 players in the actual Italian Serie A

who will enter into the trequartista category (they are considered players who have played at least one-third of the available minutes at their disposal).
Italian Source:
---
Steve Amoia is a freelance writer and translator based in Washington, D.C. He is the publisher of World Football Commentaries since 2006 and published The Soccer Translator from 2008 to 2015.
---
www.worldfootballcommentaries.com: Unbiased journalism and unique content since November 2006.
---
Contact
|
About
|
Home

Tweet