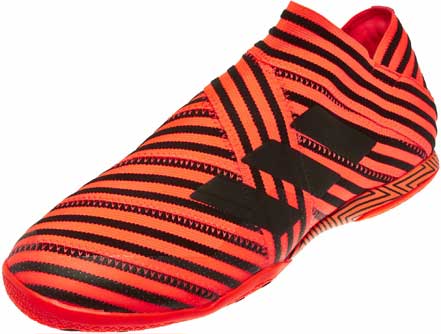 Image credit: SoccerPro.com.
MSRP: $199.99. On sale now for $169.99.
To learn more about those shoes,
please click the image.
Synopsis:
A review of the adidas Nemeziz Tango 17+ 360Agility IN - Solar Red & Core Black indoor shoes
f
rom SoccerPro.com.
Contents:
1. Overview.
2. Materials: 360 Agility Bandage System.
3. Fit of the shoes.
4. Available Sizes.
5. Domestic and International Shipping.
1. Overview:

Image credit: SoccerPro.com.
The
adidas
Nemeziz Tango 17+ 360Agility IN - Solar Red & Core Black
is
part of an impressive selection of
indoor soccer and futsal shoes
at SoccerPro. These are a new style of indoor shoes from adidas. Before the era of Twitter and hashtags, the German company coined their own "hashtag":
Die Weltmarke Mit Den
3 Streifen (The brand with three stripes.) You will know at first glance that those three stripes represent the quality and strength of the adidas brand.
---
2. Materials
:
360 Agility Bandage System:
The toe regions and both sides along the upper
frontal areas are reinforced for added durability.
This bright, stylish and innovative indoor shoe is manufactured in Vietnam
. The upper portion is constructed with synthetic textile materials.
The innovative 360 Agility Bandage laceless system stabilizes your foot based upon techniques developed from sports taping experts. The shoes conform to your feet without a stiff tightness often found in leather lace-up models. This was my first time using shoes of this nature and they provide an almost barefoot-like feel.
You will also appreciate the double lock collar which keeps your ankles securely in place.
The Torsion outsole has been designed with non-marking gum rubber to provide a more secure grip on indoor surfaces.
The reinforced heel protector is formidable and will protect you from an opponent's late tackles along with subtle, and more direct attempts, at your Achilles heel region.
Touch on the Ball
A non-marking sole provides a good foundation
for quick directional turns along with stops and starts.
The shoes fit very securely to give precise ball control. The ball moved easily as I moved it on either foot, front to back, and with lateral movements. For more mature players not accustomed to a laceless shoe, there will be a brief adjustment period. Your foot strikes the ball more cleanly with these shoes compared to more traditionally laced designs. The
adidas Nemeziz Tango
is very light (similar to a pair of slippers) yet in my opinion will be durable enough to absorb the demands of an indoor game.
Unique, Bright and Provocative Casual Shoes
Away from traditional indoor or futsal environments, you might decide to wear these shoes as a provocative fashion statement. The illuminating bright orange and black tiger-striped hues with the iconic adidas emblem will create a striking and long-lasting first impression. Especially when the sun goes down, these shoes give a pedestrian a definite advantage on city streets due to their excellent visibility.
These shoes also come with a complimentary shoe bag to tote your gear between matches and keep your investment safe and secure.
---
4. Available Sizes
:
The carry bag will keep your shoes
and other gear secure before and
after games.
6.5
7
7.5
8
8.5
9
9.5
10
10.5
11
11.5
There is also a helpful Size Comparison Conversion Chart to ensure the best fit for US, UK and European Community shoe sizes, respectively.
---
5. Domestic and International Shipping
:
Economy shipping rates start at $4.95 for domestic orders.

International shipping rates and available destinations will appear during your online checkout process.
SoccerPro has partnered with Global Shop Ex to service their international customers. Global Ex customers can use PayPal or an international credit card as their payment service. Canadian customers can use a US-bank issued credit card as a valid form of payment.
Please Note:
I received a complimentary pair of shoes to evaluate. I was not financially compensated by SoccerPro, adidas or any party who would benefit from a positive review
.
Related Articles
Steve Amoia is a freelance writer and translator based in Washington, D.C. He is the publisher of World Football Commentaries since 2006 and published The Soccer Translator from 2008 to 2015.
worldfootballcommentaries.com: Unbiased journalism and unique content since November 2006.
---
Contact
|
About
|
Home

Tweet