Image credit: Amazon.com.
Synopsis
:
A former Milan and Fiorentina player, Stefano Borgonovo, wrote a compelling first-person narrative about his daily life with ALS.
Discussion Items
:
1. Preface by Silvio Berlusconi
2. Background about Borgonovo
3. Organized Format
4. Writing Style
5. Pictures
6. Notable Quotes
7. Conclusion
8. About Fondazione Borgonovo
"Every once in awhile, I think about it. And it angers me. I scream even if nobody can hear me...
The memory of the first symptom is the one that makes you feel the worst. I wasn't prepared and didn't recognize it. A breeze of the wind, a stop, but instead it was the start of a cyclone. An unheard little voice but who would have ever understood what it was trying to tell me?
'I'm coming close, Stefano. I'm coming close.'
I hate that moment. It makes me feel sick to my stomach and if it were a person, I would like to hurt him. Without pity and that is not like me. It was the beginning of everything..."
---
Stefano Borgonovo
,
"Attaccante nato" (Born Striker)
, Chapter 1: 'Without breath', published in 2010 by RCS MediaGroup S.p.A. (Rizzoli) with a Kindle price of $16.99.
1. Preface by Silvio Berlusconi
The President of AC Milan, Silvio Berlusconi, wrote a worthy tribute to his former player. Here was an excerpt from his preface:
"
To speak to the world, only his eyes and computer remain.
He studies things, takes the positive side, sees colors in the middle of darkness because he knows that joy is the cure. I understood immediately that Borgonovo had this type of mettle from the first time I met him during his days at Como. I took note, appreciated him, and wanted to bring Stefano to Milan. I had already discovered a young man of strong character in that first meeting. Beyond his technical quality, what also distinguished him was a great deal of courtesy in dealing with others...
Stefano is an extraordinary example of a man who does not want to surrender
. From the playing field to a bed, from being exalted to being paralyzed, from a full stadium to an empty room, the change for him was relentless. Something exceptional happened inside of him: There, where only Stefano can go, there is a voice who sings for him. For him, it is enough,"
Image credit: Sport World.
2. S
tefano
B
orgonovo
played during an era when Italian football was the cat's meow. The Italians had the best league which attracted top players from around the world.
Borgonovo, a well-traveled striker, came up through the Como youth ranks. He supported Juventus as a boy and tried to emulate Johan Cruyff's moves on the pitch.
"I am Cruyff."
Stefano would not become a superstar; however, he was talented enough to be courted by Juventus and Milan, respectively. He would later play for the great AC Milan side of Arrigo Sacchi where he won a European Cup medal.
Borgonovo's most prolific season (14 goals in 30 games) came as Roberto Baggio's strike partner at Fiorentina in 1988/1989. Unfortunately, that season would be the zenith for Borgonovo and also produced his only three senior Azzurri caps. The closest he would come to that type of goal tally was 11 with Pescara in 1992/1993. He retired from professional football in 1995 while with Brescia Calcio.
His Toughest Opponent: ALS
Borgonovo sadly was diagnosed with Amyotrophic Lateral Sclerosis (also known as Lou Gehrig's Disease/ALS in English and
Sclerosi laterale amiotrofica/SLA
in Italian) in 2006. Incredibly, he found the inner will to begin a humanitarian foundation (
Fondazione Stefano Borgonovo
) with his wife, Chantal, in 2008. Borgonovo wrote this autobiography in 2010 three years before his tragic death at the age of 49.
3. Organized Format
A tribute to Stefano Borgonovo along with a tribute friendly in 2008 between Milan and Fiorentina.
There are seventeen chapters, an acknowledgments page and a pictures' credit section along with a brief appendix about his foundation.
4. Writing Style
A tribute video dedicated to Borgonovo.
The author noticed the first symptoms of ALS while coaching a youth team at his soccer school in 2005. Rarely have we witnessed an athlete discuss such a personal, painful and epic battle in the first person in such tremendous detail. If you wanted to understand ALS from a personal and neuro-muscular perspective, this is a definitive user's guide.
Borgonovo's narrative was powerful, personal, informative, educational, ironic and even at times, humorous and prosaic. He wrote this book, which was co-authored by a seasoned football journalist, Alessandro Alciato, using his eyes to input characters into his computer. It was a feat of Herculean magnitude and tells us all we need to know about the man.
5. Pictures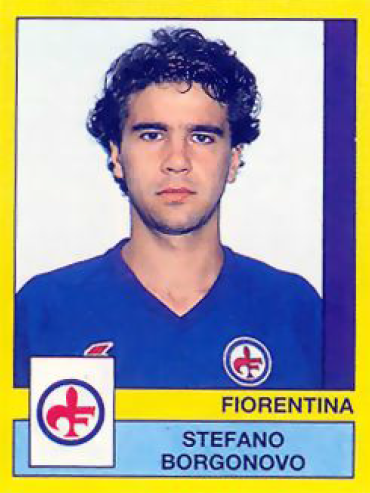 Image credit: Old School Panini.





He included several pictures from his personal and professional life. Each image was accompanied by a personal caption by Borgonovo. My two favorites were of his wedding day with Chantal and another taken with his close friend and former Milan teammate, Carlo Ancelotti, and several Chelsea players.

6. Notable Quotes

"I developed an extreme sense of my eyes, a hidden one, which is unknown to few since they have no need. Mine are the window to my soul and the hope against ALS which is my unjust and rude tenant (who lives insides of me but I pay his rent)." (Chapter 1: 'Without breath')

On Giovanni Trapattoni who he first met at the age of 10 and later as a professional playing versus Juventus:

"

'Stefano, let's kick the ball around a little?'

Ok, Trap.

'Now use this tennis ball. If you can juggle it at least ten times, you would have a good possibility to become a professional footballer.'

I stopped at fifty but had an advantage. I played tennis with my feet. Not badly. Very badly.

'Very good, Stefano. On Monday, you'll have a try-out with Milan. From now on, I won't lose sight of you. I'll follow you forever.'

"

Many years later:

"I arrived at the

Stadio Comunale

(the shared home of Juventus and Torino in Turin) and walked down that long corridor towards the changing room. At the end of it, I saw two people waiting for me. Trap and Platini: the brains and his right hand man; the genius with his photo-copy.

'Stefano, that day in Giussano, I saw things correctly. Do you know who this guy is beside me? He knows all about us. I told him our story.'

Surely, Coach, I know who it is. He is your new team masseuse, isn't that right? A smile broke out across Platini's face which was the utmost conceded by a Frenchman on the road in Italy." (Chapter Two: Without words)

On how he was treated by medical professionals:

"

'Please, Mr. Borgonovo, please follow me.'

Here is something that with time I learned:

When they addressed me this way, I had to prepare myself for the worst.

With a minimum of deference before a strike of grace. 'But Miss, there are patients that were here before me?'

'Don't worry about it.'

Ok, I'm not worried about it, but those patients were pissed off. You could see it clearly. They were all thinking the same thing:

'Look at him. The usual preferential treatment only because he spent his whole life in shorts running after a ball. This asshole will have nothing left but he'll be seen before us who get up at six in the morning every day just to make it through the month.'

"(Chapter 5: 'A Year to live, Mr. Borgonovo')

On meeting Silvio Berlusconi for the first time in a dressing room after a game:

"I rose from the bench and he approached me. Miraculously, I didn't laugh in his face. For an instant, I thought I was in the TV show,

'Dallas.'

It was similar to John Ross Ewing, Junior, for everyone,

JR

, the leading star of the series. He approached me with a deliberate gait. You could already see, even then, that he had something extra. But the problem was the hat atop his head. A Texas cowboy's hat with strings at the sides. 'Good day, President, did you come to go horseback riding?'

He kept looking me over intently. Then he laughed and said,

'I don't have a horse but I'm here to make you understand where I intend to take you. Galopping, obviously.'

'And where do you want to take me, President?'

'

To the top of the world, Stefano. To the top of the world

.'

" (Chapter 6: 'I laugh as Berlusconi did that time')

On when he could no longer speak:

"Often they ask me what was the last word that I was able to utter. I don't know; I don't remember. If it could be 'poetic,' I'd like to think it was 'thanks.' To Chantal, thanks to my four stars: Andrea, Alessandra, Benedetta and Maia. Thanks to everyone who was close to me and respected me. Thanks to the world of football. I continue to believe that it's not your fault if this illness enters your stadiums." (Chapter 10: 'Mute Scene')
An artificial turf sport pitch in Como to be dedicated to Stefano #Borgonovo http://t.co/OdV9cDzyta #VivoAzzurro pic.twitter.com/IlhDhsrv49
— Italy (@azzurri) July 24, 2014
"Baggio was my perfect twin. I used to dance with him on the pitch."
On his rapid weight loss:
"Nothing normal existed anymore. I almost didn't exist anymore. In a few months, I had lost 25 kg... When I played, on my personal scorecard, it said, 'Stefano Borgonovo. Striker. 1.78 m. 78 kg.' Therefore, a third of me had disappeared." (Chapter 12: 'In the wheelchair with a hole in my stomach')
On choosing to live:
"
'Stefano, you can't breathe any longer on your own. Your respiratory apparatus is compromised. Do you want to be ventilated? Do you want to live attached to a machine? If yes, close your eyes.'
The moment of the choice had arrived. Everything was at stake. To live or die.
The question of the century that nobody wants to have to make.
It's not a quiz, nobody can help you and above all, you have to decide quickly... I was still worth something. Humanely much more than the millions teams spent to buy my goals when I played." (Chapter 13: 'The Choice: To live or die' )
On his meeting in Milan with Carlo Ancelotti and Chelsea in 2010:
"The whole team was gathered around my wheelchair. Not one was missing. Not one. It was a difficult honor to describe. At 10:00 p.m. (John) Terry looked at the clock, and made a gesture with his hand,
'Come on, let's go.'
It was late and they had to think about Internazionale tomorrow. A captain is this way; he commands.
'Good-bye, Stefano. It was a pleasure to meet you. For me and the whole team.'
Then one after the other, single file in a line, they said good-bye to me. And are these the monsters described by the English media?"
" 'Carlo (Ancelotti), what is that?'
'Which one, Steve?
'
'That white thing coming out of the plastic bag.'
'Oh, that is something I requested 30 years ago and they (Inter) only brought it to me now. It was Sandro Mazzola's shirt autographed by him. I was in love with him.'
I gave him a bad look.
'Well, come on, Steve, you know I supported them as a child.
' " (Chapter 17: 'The sky is always more blue')
Translator's Note:
Sandro Mazzola was an Internazionale legend and the son of Valentino, a former Torino great who perished in the air crash at the Superga Cathedral. Carlo Ancelotti was a Milan, Parma and Roma player but as a child, he supported Inter. Mister Ancelotti also donated the entire proceeds from his 2010 autobiography to Borgonovo's foundation.
7. Conclusion
— Fondazione Borgonovo (@OnlusBorgonovo) November 11, 2015
As Mr. Berlusconi noted in his preface remarks,
"Borgonovo's life was a lesson to us all.
"
ALS robbed Stefano Borgonovo over control of his body; however, the cruel malady never made him relinquish mastery of his brilliant mind. His life was a tribute to the human spirit, a rare unselfish nature, the will to live, and perhaps most importantly, a lasting legacy through his foundation that will assist others afflicted with ALS for many years to come.
"Born Striker" will make an excellent addition to your medical, personal or sports library. It is only available in Italian at this time.
Please Note
I did not receive a complimentary review copy from the publisher, RCS MediaGroup S.p.A
. I was not financially compensated by a representative of the authors, publisher or any other party who would benefit from a positive review.
8. To Learn More about "Fondazione Stefano Borgonovo"
#IceBucketChallenge ecco il video di Chantal #Borgonovo -> http://t.co/79Tbmd9oGK
— Fondazione Borgonovo (@OnlusBorgonovo) August 24, 2014
Chantal Borgonovo taking the #IceBucketChallenge.
Related Articles
Steve Amoia is a freelance writer and translator based in Washington, D.C. He is the publisher of World Football Commentaries since 2006 and published The Soccer Translator from 2008 to 2015.
---
Contact Us
|
About World Football Commentaries
|
Follow on Twitter |
Home


Tweet